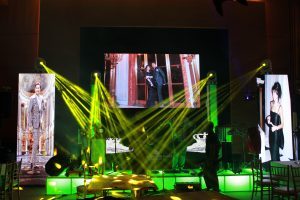 At RGB Rentals, you won't get something cookie cutter. There is no template to our services with your venue being our canvas and your ideas being our paintbrush.
We start by understanding your vision, theme and location. From there, we design the incredible appearance and sound you have in mind, starting from the ground up. Our professionals consistently deliver on our promises to make your event unforgettable and to ensure it makes an impact. Wherever your venue, our designers can transform it to create the effects and the moments you want most. We offer a number of event production services in and around the tri-state area, including:
Lighting
Sound
Special Effects
Staging & Dance Floor
Visual
You can trust our team to add the theatrical touch you need to make the impact you want. We aren't just technicians, but design specialists who have spent 20 years turning event design into an art form. Call us today at 516-385-9876 and talk to one of our team members to learn how we can create an experience of a lifetime.